Genevieve "Jenny" Hagemeier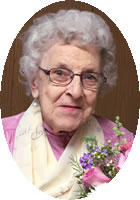 Rockville
January 15, 1925 – June 25, 2018
Mass of Christian Burial will be 10:30 a.m. on Friday, June 29, 2018 at St. Boniface Catholic Church in Cold Spring, MN for Jenny Hagemeier, who died Monday, June 25, 2018 at Cherrywood in Richmond in the loving hands of her family. Burial will be in the parish cemetery.
A gathering of family and friends will be from 4:00 – 8:00 p.m. on Thursday, June 28, 2018 at St. Boniface Catholic Church in Cold Spring. Parish Prayers will be at 4:00 p.m. Visitation will continue Friday from 9:30 -10:30 a.m. in the church narthex.
Jenny was born on January 15, 1925 in St. Martin, MN to Nick and Mathilda (Schmitz) Terres. She married Urban Hagemeier on May 20, 1947 in the Church of St. Martin. Jenny and Urban raised three children on their farm near Rockville, where they lived for 46 years. Jenny worked as a waitress for many years. She loved the personal contact. Jenny was a real people person and had many friends that she quilted and played cards with. She was an excellent homemaker, a talented seamstress and a wonderful crafter. Her first love was her family. She was so proud of her children, grandchildren and great-grandchildren. Urban was the love of her life, and she is now reunited with him. She will be missed.
She is survived by her children, Ione (Dan) Scheeler, Doris (Steve) Dockendorf and Lloyd (Karen) Hagemeier; siblings, Ralph "Bud" (Jean) Terres and Maddie (Ray) Kleve; in-laws, Rosie Terres, Donna Terres, Gilbert (Margaret) Hagemeier, Paul Wesbur, Wally Shave and Lowell Ergen; 5 grandchildren and 3 great-grandchildren.
She was preceded in death by her husband, Urban Anthony Hagemeier; siblings, Al Terres, Ray Terres, LeRoy Terres, Florentine Lunde, Helen Ergen and Irene Schave; in-laws, Marie Terres, Burt and Minnie Hagemeier, Leander Hagemeier, Marie Wesbur, Cliff Lunde, Sally and Fred Linn.
Arrangements by Wenner Funeral Home.