John Gagliardi, age 91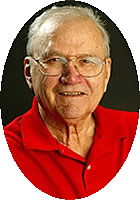 Collegeville
November 1, 1926 – October 7, 2018
Mass of Christian Burial will be 11:00 a.m. on Monday, October 15, 2018 at St. John's Abbey Church in Collegeville, MN for John Gagliardi, age 91, who died Sunday at the St. Cloud Hospital surrounded by his family. Inurnment will be in the parish cemetery.
Friends and family may visit from 4:00 – 8:00 p.m. on Sunday afternoon at St. John's Abbey Church. Visitation will continue Monday morning from 9:00 – 10:45 a.m. in the church. Arrangements are with the Wenner Funeral Home, Cold Spring.
John was born on November 1, 1926 in Trinidad, CO to Ventura and Antoinette (Vigna) Gagliardi. He married Peggy Dougherty on February 14, 1956 in St. Cloud. John coached College Football at St. John's University for 60 years and Carroll College, Helena, MT for 4 years. John felt it was more important to be "interested than interesting."
He is survived by his loving wife, Peggy; children, Nancy (Tom) Little, John (Barbara), Gina (Jeff) Benson, Jimmy (Anne); siblings, Rosann (Rudy) Icabone, Patsy (Jerry) Ridgeway; 19 grandchildren and 13 great-grandchildren.
He was preceded in death by his son, Joseph; siblings, Anne (Amadeo) Anselmo, Helen (Sam) Concialdi, Frank (Josephine) Gagliardi, Marie Colangelo, Jimmy Gagliardi, and Gene (Ellie) Gagliardi.
In lieu of flowers make an effort to do what was effortless for John: compliment your spouse often, listen intently to others and see the best in all.