Brigitta Ehresmann, age 92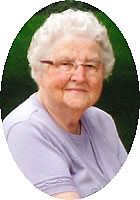 Richmond
October 22, 1926 – December 1, 2018
Mass of Christian Burial will be 11:00 a.m., Wednesday, December 5, 2018 at Sts. Peter & Paul Catholic Church in Richmond, MN for Brigitta Ehresmann, age 92, who died Saturday at Assumption Nursing Home. Burial will be in the parish cemetery.
Relatives and friends may call from 9:00 – 10:45 a.m. Wednesday morning in the church gathering space.
Brigitta was born on October 22, 1926 in Farming, MN to Walter and Cecilia (Evens) Blonigen. She married Raymond Ehresmann on October 8, 1946 in St. Catherine's Catholic Church in Farming. Brigitta loved children and worked at Richmond Public Elementary School for over 25 years. She was a hard worker who wore many hats to provide for her family. Brigitta was a seamstress who enjoyed baking, especially Kuchen Bread. Her grandchildren and great-grandchildren were the light of her life.
Survivors include her children, Beverly, Gary (Margie), Ruth (Mike) Schloeder, 5 grandchildren and 9 great-grandchildren.
She was preceded in death by her husband, Raymond; infant daughter; great-granddaughter, Makenna Marquardt; grandson-in-law, Jeffrey "Hoegy" Hoegfeldt and siblings, Lucille Anderson and Donald.
Arrangements by Wenner Funeral Home.