James N. Brown, age 82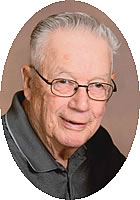 St. Cloud
October 7, 1935 – August 24, 2018
Mass of Christian Burial will be 10:30 a.m. on Wednesday, August 29, 2018 at The Church of St. Joseph in St. Joseph, MN for James N Brown age 82, who died Friday, August 24, 2018 at the VA Medical Center surround by family. Entombment will be in the Minnesota State Cemetery, Little Falls.
A gathering of family and friends will be from 4:00 – 8:00 p.m. on Tuesday, August 28, 2018, and again on Wednesday 9:00-10:15 a.m. at the Church of St. Joseph gathering space.
Jim was born on October 7, 1935 in Rockville, MN to Orval and Elizabeth (Klinkner) Brown. He married Delphine "Del" Eikmeier on July 7, 1962 at Mary of the Immaculate Conception Church in Rockville. They were blessed with five children. Jim loved old cars and "supervising" projects. He was a member of the International Union of Operating Engineers local 49, St. Cloud VFW Post 428 Waite Park American Legion, The Church of St. Joseph and St. Cloud Pantowners,
He is survived by his wife, Del; children, Bryan (Paula), Steve (Lynette), Kevin (Wendy), Jason (Tina), Janelle (Rick) Notsch; sister, Delores; 18 grandchildren and a great-granddaughter.
He was preceded in death by his parents; siblings, Tom and Betty; and son-in-law, Keith Harren.
In lieu of flowers memorials are preferred.