Roman "Romie" C. Brinkman, 91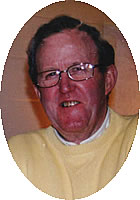 Cold Spring
November 13, 1926 – July 5, 2018
Mass of Christian Burial will be at 11:00 a.m., Tuesday, July 10, 2018 at St. Boniface Catholic Church in Cold Spring, MN for Roman "Romie" Brinkman, age 91, who passed away Thursday at Koronis Manor in Paynesville. Entombment will be in the parish cemetery.
Relatives and friends may call from 9:00 a.m. to 10:45 a.m., Tuesday in the church Narthex.
Romie was born in Cold Spring, Minnesota to Joseph and Cecelia (Backes) Brinkman. He married the love of his life, Rosemary Roettger, on August 24, 1949 at Sts. Peter and Paul Church in Richmond, Minnesota. They were married for 64 years and resided in Richmond until 1981, when they built their lake home at Rich-Spring Golf Course in Cold Spring. It was their heaven on earth location. He worked as a construction supervisor for Cold Spring Granite Company for 47 years before retiring. He took great pride in his work and was a perfectionist at what he did. Projects also took him to company sites in California and Texas over his career. Romie enjoyed golf, bowling, playing cards, barbequing, casting a line and working in the yard. He was a master craftsman who could build anything and couldn't wait to start another project in his workshop. Most of all he will be remembered for the wonderful husband and father that he was. He was the kindest, most considerate, caring person, who always put family first before himself. He will be deeply missed. He was such a positive role model, always offering his love and support. A faithful man he was, who will abound with blessings in his next life. He was a member of The Knights of Columbus and St. Boniface Parish.
He is survived by his daughter, Jeanie Rogers (Mike Connor); and his sister Doris Forbush.
He was preceded in death by his wife, Rosemary in 2013; infant son, Thomas; parents; and siblings, Leona Eichers, Cyril Brinkman, Bernice Edwards and Anna Mae Jossendal.
A special thank you to St. Cloud Hospital, CentraCare Clinic Hospice, Paynesville Hospital, Koronis Manor and Wenner Funeral Home for your excellent care and compassion.
Wenner Funeral Home