Evelyn O. Berscheid, age 90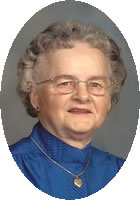 September 18, 1927 - June 9, 2018
Cold Spring formerly of Paynesville
Mass of Christian Burial celebrating the life Evelyn O. Berscheid of Cold Spring and formerly of Paynesville will be at 11:00 a.m. on Wednesday, June 13, 2018 at St. Louis Catholic Church in Paynesville. Evelyn passed away peacefully on Saturday, June 9, 2018 at Quiet Oaks Hospice House in St Augusta. Reverend Glenn Krystosek will officiate. Burial will take place in St. Louis Parish Cemetery.
Visitation will be from 4:00 p.m. to 8:00 p.m. on Tuesday, June 12th and after 10:00 a.m. on Wednesday both at St. Louis Catholic Church in Paynesville.

Evelyn was born on September 18, 1927 in Sauk Rapids, Minnesota to Joseph Jr. and Ottilia (Loidolt) Vouk. She graduated from Cathedral High School in St Cloud and furthered her education in the Cadet Nursing program at St Cloud Hospital School of Nursing earning her Registered Nurse Degree. Evelyn was very proud of her RN degree. She worked as an RN at several medical facilities throughout her career, with the St. Cloud VA being her favorite place of employment.
She married Herbert Berscheid on October 4, 1950 at Sacred Heart Catholic Church in Sauk Rapids. They lived in St Cloud for four years and then moved to the farm which they purchased west of Paynesville. They remained on the farm until Herbert's death in 2011. Evelyn then moved to Assumption Court, Cold Spring and lived there the remainder of her life.

Evelyn was a devout Catholic and was a member of St Louis Parish for over 60 years. She was also active with the Daughters of Isabella, St. Louis Christian Women and the church choir. She loved to read, garden, play the organ, sing in the church choir, shop for bargains, and participate in the many activities at Assumption Court.

Evelyn is survived by her children, Gary (Jan) of St Louis Park, Rick (Kathy) of Delano, Mary Berscheid of San Antonio, TX, Linda Carr of Clearwater, Deby (Lee) Chapin of Litchfield, Dave (Sue) of Denver, CO, Joe (Sue) of Fergus Falls, Herb Jr. (Kim) of Maple Grove, and Ron (Kim) of Arden Hills; 14 grandchildren; 15 great grandchildren; sister, Shirley (Jim) Waibel of Kimball; and close friend, Eugene Stauber.

She was preceded in death by her parents; her husband, Herbert, in 2011; and two sisters, Angie Neil and Laverne Smith.
A special thank you to Quiet Oaks Hospice House for their loving and professional care.