Martha Zierden, age 100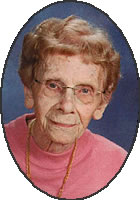 Cold Spring
December 4, 1917 – December 27, 2017
Mass of Christian Burial will be 11:00 a.m. on Saturday, December 30, 2017 at St. Boniface Catholic Church in Cold Spring, MN for Martha Zierden age 100, who died Wednesday December 27 at Assumption Home in Cold Spring. Burial will be in the St. Boniface Parish Cemetery.
A gathering of family and friends will be from 9:00 - 10:45 a.m. Saturday, December 30, 2017 at the St. Boniface Church Narthex.
Martha was born in New Munich, MN to Bernard and Carrie Humbert. She married Leo Zierden on May 10, 1937 at Immaculate Conception Church in New Munich. Martha was a homemaker and school cook at St. Boniface and Rocori for 23 years. She was also a house keeper at St. Boniface Rectory. Martha was a member of the Christian Women, and loved reading, gardening and baking.
She is survived by her children, Joseph (Ann) Zierden, Mary Lou (Ed) Meyer; daughter- in-law Donna Zierden; sister, Dolores (Jack) Armitage; brother, Norbert Humbert; brother-in-law, Joe Osendorf; 11grandchildren; 33 great-grandchildren; and 1 great-great- grandchild.
Preceded in death by her husband, Leo; son, Donald; sister, Marian, sister-in-law, LouElla and 4 grandchildren.
Arrangements by Wenner Funeral Home.