Roger E. Wittenberg, age 71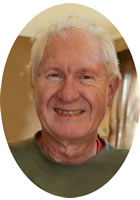 St. Cloud
October 22, 1946 – November 12, 2017
A funeral service will be 1:00 p.m., Saturday, November 18, 2017 at Gloria Dei Lutheran Church for Roger E. Wittenberg, age 71, who died of natural causes Sunday at his home. Burial will be in the Gloria Dei Cemetery.
A gathering of relatives and friends will be at 11:00 a.m., Saturday, at the church.
Roger was born in New Ulm, MN to Elmer and Sarah (Jahnke) Wittenberg. He married Renee Aspen on February 9, 1974 in Fosston, MN. Roger worked at the Minnesota Work Force Center until his retirement. He used his time, talents, and treasure to serve the Lord, and made a difference with his customers and employees. Roger enjoyed playing guitar, bowling, reading, taking walks with his dog, traveling, and spending time with his family and friends.
Survivors include his wife, Renee; children, Jonathan (Frances) Wittenberg and Laura (Brian) Baumgart; siblings, Sharon (Carl) Bird and Joann (Kenneth) Kasten; grandchildren, Jocelyn, Donovin, Alexis, Colin, and Isabel.
He was preceded in death by his parents and his brother, Lamar.
Wenner Funeral Home