Debra S. "Debbie" Wendt, age 65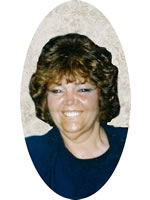 Wheaton, IL
December 15, 1951 – February 1, 2017
Wheaton, IL December 15, 1951 – February 1, 2017
A celebration of life will be 1:00 p.m., Saturday, February 11, 2017 at Wenner Funeral Home in Cold Spring for Debra S. Wendt, age 65, who died peacefully Wednesday surrounded by her family. Inurnment will be in the Concordia Cemetery in Forrest Park, IL at a later date.
A gathering of relatives and friends will begin at 12:00 p.m. on Saturday, at the Wenner Funeral Home in Cold Spring.
Debbie was born in Oak Park, IL to William "Bill" and Mary Jane Wendt. She grew up in Wheaton, IL and moved to Richmond, MN in 1989. Debbie loved crafting, cooking and music. She was very artistic and was always fixing things. Most of all she adored her family and was a caretaker for anyone in need.

Survivors include her daughter, Tracy (Fidel) Castro; grandchildren, Anthony, Joseph, Michelle and Miranda; great-grandchildren, Jaslynn, Makeyla and Angeline; sister, Kim (Roger) Hommerding; brother-in-law, Bill Eichhorst and nieces & nephews, Mike, John, Bill, Bob, Jacquelyn, Kendra, and Lyndsay.
She was preceded in death by her parents and siblings, William Wendt II and Pamela Eichhorst.