Dakota "Kody" Weismann, age 22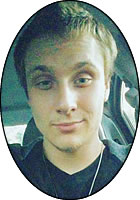 Richmond
September 20, 1995 – December 24, 2017
A Prayer Service will be at 11 a.m., Friday, December 29, 2017 at the Wenner Funeral Home in Richmond, MN, for Dakota "Kody" Weismann, age 22, who died Sunday, December 24, at his home. Burial will be in the Sts. Peter and Paul Parish Cemetery.
A gathering of relatives and friends will be from 9:00 – 11:00 a.m., Friday at the Wenner Funeral Home in Richmond.
Kody was born on September 20, 1995 in Paynesville to Jeanien Weismann and Jason Jones. He grew up in St. Cloud and attended St. Cloud Technical High School. He was currently living in Richmond and working in construction. Kody loved music and expressed himself writing lyrics and drawing. He loved the outdoors, building things, and spending time with family. Kody was always willing to work hard, get dirty and help when he was needed.
Survivors include his mother, Jeanien (Jed Scheierl) Weismann, father; Jason Jones; sister, Ashlee Gibson; grandparents, Glenn and Sue Weismann, Lisa Weismann, Patricia Jones; many aunts, uncles, and cousins.