James W. Spaeth, age 80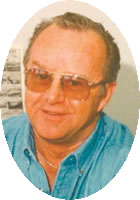 Spring Hill, FL
1937 - July 8, 2017

James W. Spaeth, 80, died peacefully at home in Spring Hill, FL. on July 8, 2017 He was surrounded by his fmaily and had fought a valiant battle with cancer.
Born in Padua, MN, to Edward and Caroline (Dieters) Spaeth, he graduated from Eden Valley High School. His true passion was sales and he was a car salesman for most of his life.
He proudly served his country as a United States Marine, and spent most of his life in Maple Park, IL. Jim was a great family man and loved his kids, grandkids and great-grandkids. He was a dedicated fitness/body builder and loved recalling his life's memories.
Funeral services will be held at 11:00 a.m. on Saturday, July 14, at Sts. Peter & Paul Catholic Church in Richmond, MN. Visitation will be from 9:30 - 11:00 a.m. Saturday at the Sts. Peter & Paul Gathering Space.

Survivors include his loving wife of 57 years, Mary (Niehaus) Spaeth, son Terry (Vicki), daughters Toni Bennett and Tammy (Jeff) Terkelson, all of Florida; eight grandchildren: Brnadon and Stephanie; Brooke, Jorden and Courtney; and Jason, Stacie and Noah; and ten great-grandchildren. He is also survived by his brother Alvin (Bonnie) and his sister Shirley (Tom) Jungles.
Preceeded in death by his parents, brothers Roman (Melda), Norbert (Teresa) and Vernie (Joyce).