Sarah "Sally" Ann Skahen, age 78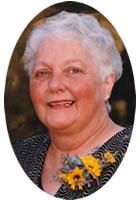 Sartell
July 24, 1938 – March 2, 2017
Mass of Christian Burial will be 12:00 p.m. (noon), Monday, March 6, 2017 at St. Francis Xaviar Church in Sartell, MN for Sarah "Sally" Ann Skahen, age 78, who died peacefully Thursday at home surrounded by family. Burial will be in St. Francis Xaviar Parish Cemetery.
Visitation; Sunday, March 5, 2017 from 4:00 p.m. – 7:00 p.m. at St. Francis Xavier Church, 219 2nd St N, Sartell, MN 56377. Reviewal will continue from 9:00 – 11:45 a.m., Monday morning at the church. Arrangements are with Wenner Funeral Home in Cold Spring, MN.
Sarah Ann Skahen was born in St. Paul, MN to James and Virginia (Murray) Murphy. She married Thomas Richard Skahen on April 30, 1960 in the Church of St. Mark's, St. Paul, MN. Sally was an executive and owner of Sunset Mfg. She enjoyed shopping, antiquing (Former owner of an Antique Mall), spoiling her grandchildren, volunteering and helping others in many ways. Being 100% Irish, Sally was very religious and had a great devotion to The Blessed Mother. She enjoyed visitors and was an extremely gracious hostess. Sarah was a member of the Cold Spring Lioness and St. Francis Xavier Parish.
Survivors include her husband, Thomas Skahen (Sr.); children, Kelly (Pat) Wenner, Tara (John) Schneider, Thomas (Lori), Vincent, Erin Metoxen, Sean (Jennifer); brother, John Murphy (Liz); 17 grandchildren, 3 great-grandchildren.
She was preceded in death by her parents; sisters, Virginia and Rita; brothers, Thomas and Daniel; and 6 grandchildren.