Claude Reimche, age 79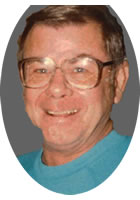 Richmond
November 19, 1937 – November 3, 2017
A Memorial Service will be at 11:00 a.m., Wednesday, November 8, 2017 at the Wenner Funeral Home in Richmond, MN for Claude Reimche, age 79, who died Friday at the St. Cloud Hospital surrounded by his family. Inurnment will be in the Sts. Peter & Paul Parish Cemetery, Richmond, MN.
A gathering of relatives and friends will be from 9:00 a.m. – 11:00 a.m., Wednesday morning at the funeral home.
Claude was born on November 19, 1937 in Lodi, CA to Emil and Evelyn (Sandness) Reimche. He graduated from Lodi Union High School in 1955. He married his best friend, Carol Breth on August 4, 1984 in Las Vegas, NV and lived in Yucaipa, CA until 2016. They then moved to Richmond, MN to be near family and friends. Claude worked in the retread research and development and tire business from 1956 until his retirement in 1999 with a short stint driving for Joe's Trucking in Albany, MN. He enjoyed fishing, camping, remodeling, custom car building and racing. Claude was part owner in Kal-Cart go-cart racing in Stockton, CA where he built and raced go-carts. He held the go-cart track racing record in 1968 at Riverside, CA. Claude especially enjoyed time spent with family and friends. His upbeat and positive attitude will forever be remembered.
Survivors include his wife, Carol; daughter, Robin (Ron) Walton and their daughter, Taylor Walton of Madera, CA; sister, Jeanne Nutter of Concord, CA; and many in-laws and nieces and nephews.
He was preceded in death by his parents, brothers-in-law, Neil Nutter and David Breth.