Donald "Bud" Reber, age 91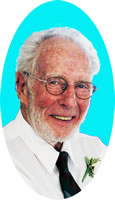 St. Joseph
September 11, 1925 - January 14, 2017
Mass of Christian Burial celebrating the life of Donald "Bud" Reber, age 91, of St. Joseph will be 10:30 a.m., Thursday, January 19, 2017 at St. Joseph Catholic Church, 12 W Minnesota St., St. Joseph. Bud passed away Saturday at the VA hospital. Inurnment will be in the Minnesota Veteran's Cemetery, Little Falls.
Relatives and friends may call from 4:00 p.m. – 8:00 p.m. Wednesday, January 18, 2017 at the church of St. Joseph Heritage Hall. Visitation will continue Thursday morning from 9:00 a.m. – 10:15 a.m. at the church. Arrangements are with Wenner Funeral Home, Cold Spring.
Bud was born September 11, 1925 in St. Joseph to Frank and Marie (Dobmeier) Reber. He married Irene Sauer on October 15, 1955, together they had 3 children. Bud was on the St. Joseph city council for 18 years and served 2 terms as city mayor. He played minor league baseball for the St. Cloud Rox in 1947, the Palatka Azaleas and Fort Lauderdale Braves in 1948 and Shreveport Sports in 1949. He also served as a Sargent in the US Army during the Korean War. Bud was a true woodworker and craftsman, building his own house and was known for producing hundreds of cribbage boards, napkin holders, canes, lamps and "flip" games. He was also a Meals on Wheels driver and served as a past commander of the St. Joseph VFW.
Survivors include his wife, Irene; children, Todd (Patty) Reber, Jeff (Debbie) Reber and Kim Neff; 8 grandchildren, Ali, Lauren, Chad, Leah, Bailey, Sophie, Jake and Nick; 2 great-grandchildren, Aria and Mila; brothers, Dennis and Jim; and sister, Judy.
He was preceded in death by his parents; 3 brothers, and 4 sisters.
Bud's family would like to extend a special thank you to the St. Cloud Veteran's Hospital staff in building 49, floor 1, for the extraordinary care & compassion they have shown to Bud in his final days.