Jeffrey A. Neussendorfer, age 31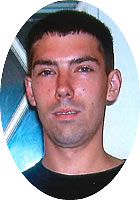 Richmond
July 11, 1985 – May 24, 2017
A Memorial Service will be Thursday, June 29, 2017 at 7:00 p.m.at the Wenner Funeral Home in Richmond, MN for Jeffrey A. Neussendorfer, age 31, who died Wednesday, May 24. A gathering of friends and family will be Thursday evening from 4:00 – 7:00 p.m. at the Wenner Funeral Home, Richmond.
Jeff was born in Wenatchee, WA in 1985. He moved to Richmond, MN with his parents when he was two. Jeff attended Sts. Peter & Paul and Rocori Schools. He worked as a woodworker and finisher at Westwind Woodworkers and then AK Custom Cabinetry in Albany. He loved his work and was proud of the jobs they did. Jeff loved hunting, fishing, playing poker, and hanging out at the campfire with family and friends.
Survivors include his parents, Ed and Jane (Bennett) Neussendorfer, brother, Morgan (Sara); sister, Kayla (Josh); good friends, Andrew Hemmesch, Brandon Stang; and many aunts, uncles and cousins.
He was preceded in death by his grandparents, Robert "Bud" and Ann (Pflueger) Mayer, Milo and Mermyle (Sanders) Bennett; uncles, Tom and Rick Bennett; cousin, Jamie Weber; friend, Chuck Koltes and our loyal dog, Lily.