Harriet Jane Elletson Mooney
(Carter, Ilstrup), age 87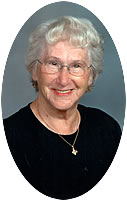 Buffalo
July 27, 1929 - January 21, 2017
Harriet Jane Elletson Mooney (Carter, Ilstrup) of Buffalo, went home to be with the Lord on Saturday, January 21, 2017. She was born July 27, 1929, the daughter of Reuben and Myrtle (Cunningham) Elletson.
We are celebrating the life and many dances of our mother and grandmother. She was funny and fun, and touched so many with her kindness.
She lived with a spirited independence and a loving respect for all human and animal life. She was loved by all who knew her, always gave of herself to family and friends. She loved crafting, quilting, sewing, gardening, camping and spending time with her children and grandchildren. Her grandchildren were the love of her life. Her sense of love and God's spirit will live on in all of us.
Preceded in death by her husbands, Chuck Mooney, Glenn Ilstrup, George Carter; parents, Reuben and Myrtle Elletson; brother, Gerald Elletson; sister, Lorraine Barten; beloved son, Bruce Ilstrup; son-in-law, Richard Shelso; and grandson, Seamus Mooney.
She is survived by her daughter, Candice Shelso Wells (Byron Wells); son, Michael Carter (Karin); daughter, Diane Ilstrup; son, Kevin Mooney (Jeanine); step-children, Mary Mooney, Cathy Moe (Ron), Patrick Mooney; dozens of grandchildren and great-grandchildren; sister, Darlene Scharfschwerdt; and family and friends.
Memorial service for Harriet Mooney will be held Thursday, January 26, 2017 at 11:00 AM with visitation one hour prior at Zion Lutheran Church in Buffalo.
In lieu of flowers, memorials preferred to the Buffalo Senior Center or the American Lung Association.
Serving the family is The Peterson Chapel in Buffalo. 763-682-1363. www.thepetersonchapel.com.