Mary Josephine "Jo" McDowell, age 95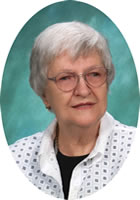 Cold Spring (formerly of Springfield, MO)
January 11, 1922 – May 4, 2017
Mass of Christian Burial will be 2:00 p.m., Friday, May 12, 2017 at St. Boniface Catholic Church in Cold Spring, MN for Mary Josephine "Jo" McDowell, age 95, who died Thursday at Assumption Home in Cold Spring. Inurnment will be in the parish cemetery at a later date.
Relatives and friends may call from 12:30 p.m. – 1:45 p.m., Friday, May 12, 2017 in the Church Narthex. Arrangements are with Wenner Funeral Home, Cold Spring.
Jo was born in Rolla, MO to Evert H. and Jennie M. (Rhodes) John. She married Roy C. McDowell on December 10, 1948 in Rolla, MO. They moved to Springfield, MO, then to various cities around the U.S., eventually returning to Springfield, MO where they lived for 40 years. Jo moved to Cold Spring, MN about two years ago and lived at Assumption Home. A homemaker throughout most of her life, Jo was very active as a volunteer in service to her church. She taught Sunday school at St. Paul Church in Springfield for over 30 years and was a member of the church council until age 90. She had a keen interest in health and nutrition and worked for several years at a health food store. She also worked in real estate and banking for a period of time. She served on the board of the Japanese Garden in Springfield, and helped plant the original Japanese Garden. She was always a member of a garden club, and was known for her award winning contemporary floral arrangements, as well as her beautiful flower gardens. A great reader, Jo enjoyed discussing books, current events, politics, and religion and had an open mind to new ideas. Jo was a loving mother, a wise counsel, and will be greatly missed.
She is survived by her children, Larry (Karen) of Miami, FL, Judy (Bill) Shephard of Kansas City, MO, Becky (Gary) Terhaar of Cold Spring, MN; 5 grandchildren; 4 great-grandchildren and 2 great-great-grandchildren.
She was preceded in death by her husband, Roy (1999).