Marjorie Ann Goodrow, age 71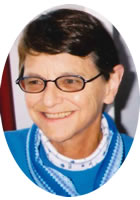 Cold Spring
December 26, 1945 – June 30, 2017
A Memorial Service will begin at 1 p.m., Thursday, July 13, 2017 at Wenner Funeral Home in Cold Spring, MN for Marjorie Ann Goodrow, age 71, who died June 30, 2017 at St. Cloud VA Health Care System. Inurnment will be in the Fort Snelling Cemetery in St. Paul, MN at a later date.
A gathering of relatives and friends will begin one hour prior to the service on Thursday, July 13, 2017 at the Wenner Funeral Home in Cold Spring.
Marjorie was born in New London, Connecticut to Ernest J. and Sally M. (Hewlett) Goodrow. She was a member of the St. Mary's Catholic Church in McGregor, IA. Marjorie enlisted in the US Army in 1968 and served several years. She studied at the College of St. Benedict in St. Joseph, MN. Majorie worked for Doug Dawson's Hobby Farm in Harpers Ferry, IA. She loved going to the casino, gardening, flowers, and painting gourds for farmers markets. She also enjoyed canning and cooking, but wasn't a fan of baking. Marjorie was a wonderful artist and could build or fix anything. She collected coins and baseball cards, and enjoyed watching the Minnesota Twins.
Survivors include her siblings, Nancy L. (Goodrow, Rau) Oehrlein, and Ernest J. Goodrow Sr, Nieces and nephews; Kathi Simpkins, James, Tom, and Scott Rau. Ernest Goodrow Jr, Edward Goodrow, Brenda Schindler, Sally Larson, Linda Gibson, Bradley, Mark, Mitch, and Peggy Goodrow and some cousins.
She was preceded in death by her parents; grandparents; and brother, Joseph E. Goodrow