Frederick "Fritz" Fandel, age 94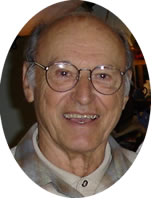 Cold Spring
July 13, 1922 - January 11, 2017
Funeral services will be announced at a later date for Frederick "Fritz" Fandel who died January 11, 2017 at home.
Frederick Ferdinand Frank Fandel was born July 13, 1922 to Sylvester W. and Marie Peters Fandel in St. Cloud. Fritz attended Riverview Elementary, Central Junior High, Cathedral High School, Pennsylvania Military College, and Saint John's University, graduating in 1947 with a bachelors degree in economics. Frederick served during WWII in Germany with the United States Army 78th Lightening Division, 411th Battalion, Company C, in forward positions at Sieg River, Simmerath, Hurtgen Forest and the Remagen Bridge. He was awarded a Bronze Star with cluster.
He married Anne Marie "Sie" Cullen on September 27, 1947 at Holy Angels Church, St. Cloud. Fritz was employed with Fandel's Department Stores all of his working career. He served as board member and president of Central States Department Stores, St. Cloud Chamber of Commerce, Downtown Association, St. Cloud Jaycees, Rotary Club of St. Cloud, Rotary Club of Fountain Hills, Ariz., and St. Cloud Country Club; and board member of Cold Spring Brewing Company, College of St. Benedict Board of Trustees, and Knights of Columbus.
Frederick was a skilled art painter and wood carver. He enjoyed golf, woodworking, birding, tending resplendent perennial gardens, reading, philosophy, and had an impressive memory of business personages and mergers.
Fritz is survived by children Susan Fandel (Lynn Magnet) of San Francisco, CA; Peter of St. Cloud; and Terese Fandel (John Pennings) of Hayden Lake, ID; grandchildren Isabel, Louis and Sophia Pennings; and sister Joan Lyons. He was predeceased by parents, his wife of 59 years, and sister Marie Moore. Memorials to The College of St. Benedict - Mary Cullen Music Scholarship Fund.