John P. "Jack" Bell, age 84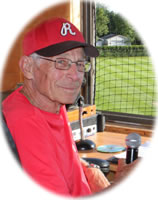 Cold Spring
March 4, 1932 – January 1, 2017
Mass of Christian Burial will be 1:30 p.m., Thursday, January 5, 2017 at St. Boniface Catholic Church in Cold Spring, MN for Jack Bell, age 84, who died Sunday at the St. Cloud Hospital surrounded by his family. Entombment will be in the parish cemetery.
Visitations will be from 4:00 p.m. – 8:00 p.m., Wednesday, January 4, 2017 and Thursday from 11:00 a.m. – 1:00 p.m. at the Wenner Funeral Home in Cold Spring.
Jack was born in Cold Spring, MN to John P. Sr. and Agnes (Stein) Bell. He married Dolores Johnston on June 20, 1953 in Alameda, CA. Jack served in the U.S. Army during the Korean War. He worked at the Cold Spring Granite Company for 43 years. Jack was known as the "Voice of Cold Spring" serving as the announcer for the Cold Spring Springers and Rocori sporting events. He was inducted into the inaugural class of the Rocori Athletic Hall of Fame and a recipient of the Hometown Pride Award.
Jack was a member of the Catholic Order of Foresters, Korean Last Man's Club and Cold Spring Area Historical Society. He volunteered at St. Boniface Parish as a Lector, Finance Council Member, Religious Education Teacher and Adult Mass Server. Jack served on the Board at Assumption Home and volunteered with Meals on Wheels and Cold Spring Bike Drive.
Jack enjoyed golf, woodworking, puzzles, sporting events, all things Cold Spring and spending time with his family.

Survivors include his wife of 63 years, Dolores; children, Kathy (Jo Ann), Mike (Kathy), Dan, Vicki (Mark) Jungels, Gary (Char), Sue (Scott) Massmann; siblings, Barb (Elmer) Walz, Dolly (Don) Smith, Julie (Bob) Manuel, Paul; in-laws, Ron Buettner; Dottie Johnston, Rudy Lorenz; grandchildren, John, Amy, Lizzie, Alicia, Amanda, Jackie, Matt, Chad, Leah, Andrew, Gabe, Rachel, Dani, Julia, Jack, Will; great-grandchildren, Lily, CeCe and Henry.
He was preceded in death by his parents; sister, Elaine Buettner; sister-in-law, Darlene Bell and daughter-in-law, Deb Bell.
Arrangements are with Wenner Funeral Home, Cold Spring.