Grace Willenbring Schneider, age 75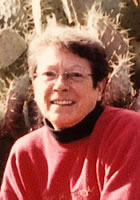 April 07, 1943 - March 19, 2019
Grace was my wife, my lover, my partner and in retirement my best friend – 24/7. She passed away March 19, 2019 in Mesa, AZ, at our wintering place.
Grace was born April 07, 1943, the daughter of Matt and Ann (Spanier) Willenbring, in Richmond, MN. She was the third generation from Richmond. When she started grade school she only spoke German. She was a National Honor Society student at St. Boniface High School in Cold Spring, MN. She met her husband, Gene, on a blind date while he was home on a Navy leave. They were married at Sts. Peter and Paul Church in Richmond, MN which started the loving part of their lives lasting 54 years.

She mothered two unbelievable sons, Scott and Tait. She taught them respect, common sense and a work ethic that was inspired by her dedicated 30 years for Honeywell, Inc. where her goal was to prove to be better than any two men combined. Scott wrote an endearing University paper entitled "The Miracles in Our House" that captured the continuous magic of homemade food on the table, clean dishes in the cupboards and clean socks and underwear in the drawers. Grace was a true multi-tasking person.

Being an 'old fashion gal' Grace enjoyed canning salsa, beets, and her mother's recipe for pickles. Her culinary skills excelled in the kitchen where she loved to go overboard when entertaining. She varied the menu so her guests always experienced a new menu, except for her specialty, a main course of snapping turtle. What is a husband going to do with all these cookbooks?

Grace was a master scrabble player. Words were her passion. In retirement, her mornings began with the New York Times crossword puzzle and cryptograms. Grace had an uncanny ability to think outside the box in solving clues. Her evening was not complete until Wheel of Fortune and Jeopardy were watched.

The above condenses a lifetime. I hope you recognize a hidden message to love your spouse anew because, like me, one day you will miss her, or him, more than you can ever imagine.

Grace is preceded by her parents, brothers Ricky and Ralph and sister Darlene (Steve St. Martin). She is survived by her husband, Gene, and sons, Scott (Cori) and Tait (Diana) and six grandchildren, siblings, Gerald (Dederdah/Karen), Jeanette (John Wherry), Carol (Mutz/Ralph Schaefer), Ron (Willie/Cindy) and Ann (Bob Gotfredson), best friend (Mary Ann Dingmann) and life-long friend (Geri Rambler Wilson).

A celebration of Grace's life with food and beverages will be conducted Saturday, April 27, at Jerry's Firehouse Grill, Richmond, MN, 12 - 3pm.