Richard Blaine Rogers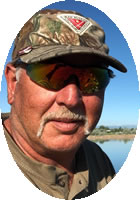 Cold Spring
December 23, 1957 – June 27, 2019
Richard Blaine Rogers "Rick" of Cold Spring MN, and formerly of Firestone CO, passed away peacefully June 27, 2019. Rick was born December 23, 1957 in Memphis TN. He attended Peabody Elementary, Oakshire Elementary and graduated from Whitehaven High School in 1976.
He was welcomed into Heaven by his infant daughter, his parents, Charlie Rogers and Bettye Everett Rogers, his paternal and maternal grandparents and his beloved pets BooBoo, Ollie and Buck. He is survived by his daughters Kelsey Rogers and Olivia Rogers - both of MS, nephews Brad of Litchfield and his family Jobeth, Mason & Mcrae and Bryan of Coon Rapids and his family Hailey & Caden, his sister Mandy (Marty) of Cold Spring, his aunts Nora Meadows and Eva Penrose and their families along with his furry family members Sally, Mia & Marley.
Rick was a true Southern gentleman with easy-going ways. His kindness, sense of humor and quick wit made him easily likeable and completely unforgettable. Rick loved momma's strawberry cake, tomato sandwiches, peach tea, spending time outdoors hunting and fishing, playing golf, the mountains of Colorado, throwing darts and hanging out with his family and friends. He leaves behind many friends, especially Dawn, Samantha, Elois, Roy & Erica and Sweet Baby Addy along with Wes & Haley and Luke & Londyn.
Rick's family would like to thank Wenner Funeral Home in Cold Spring, the 6th floor south nursing staff at the St. Cloud Hospital, Dr. Jerone Kennedy and the entire surgical team, Dr. Suri, Dr. Houle and Dr. Sunderberg for their care and compassion. We know everyone did their best but God had other plans for Rick.
A celebration of life will be planned for friends and family. Rick's final resting place will be in the mountains of Colorado.
Arrangements were with Wenner Funeral Home, Cold Spring.