Susan (May) Molitor-Will, 64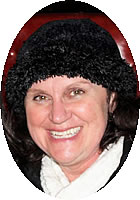 November 24, 1954 – February 13, 2019
Susan (May) Molitor-Will passed away peacefully with her sons by her side in Orondo, WA on Wednesday February 13th. A Mass of Christian Burial will be held at 11am Saturday March 2nd at St. Agnes Catholic Church in Roscoe with visitation that day from 9am to 11am at the church. Fr. Glenn Krystosek will officiate. Burial will be in the St. Agnes Cemetery.
Susan was born November 24th, 1954 to Richard and Anna-Mae (Flint) May. She attended school in Roscoe and graduated from Paynesville High School in 1972., Though she lived her entire adult life in Washington, her roots were clearly in Minnesota. She traveled "home" with her boys every summer, making "fishing memories." She never missed a family event.
Susan drew people to her, and her life was enriched with many friends. Her love for children took her to Orondo Elementary School, where her Spanish skills endeared her to many students. Later, as a home visitor for WIC, Susan found her niche, helping young mothers improve their parenting skills.
Susan loved to travel! She cherished memories of adventures with her boys, vacations with her sisters, and road trips with friends. She was a proud Harley girl and an avid sports fan—always conflicted when the Mariners played the Twins!
Though Susan left us much too soon, she leaves behind her two sons, Troy Molitor (Mariah) of Dutch Harbor, Alaska, and Kyle Molitor (Shanel) of Orondo, her siblings, Lorraine (Jerry) Svihel of Clearwater, Chuck (Deb) May and Janet (John) Dierkhising of Cold Spring, Mary Lou May and Mike May of Eden Valley, Stephen (Kathy) May of St. Anna, and Marlene (Jeff) Bertram of Paynesville, step-brothers, Wayne (Tamra) and Greg Sturm of Colorado. Also many beloved nieces and nephews, all of Minnesota.
Susan is preceded in death by her parents, Richard (1967) and Anna-Mae (2017)., Rest in Peace Susan, you are loved by many and will be deeply missed.