Diann Finken, 74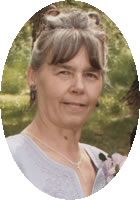 Cold Spring
December 1, 1944 - February 12, 2019
Diann Finken, 74 year old resident of Cold Spring, MN formerly of Grey Eagle, MN passed away Tuesday, February 12, 2019 at Quiet Oaks Hospice House in St. Augusta, MN. A Funeral Service will be held at 11 AM on Tuesday, February 19, 2019 at St. John's Evangelical Lutheran Church in Grey Eagle, MN, with Pastor Michael Bitz officiating. Interment will be later at Lakeview Cemetery in Grey Eagle. Visitation will be from 4 to 7 PM on Monday at Shelley Funeral Chapel in Little Falls, MN, and from 10 to 11 AM on Tuesday at the church.
Diann Joan Chromey was born on December 1, 1944 in Glenwood, MN to the late Norbert and Lucille (Garvin) Chromey. She grew up in Grey Eagle and attended the Grey Eagle schools, graduating in 1962. Diann then moved down to the Twin Cities and worked as a nanny. She was united in marriage to Alto Finken on September 12, 1970. The couple built their home outside of Cold Spring, MN, where they raised their three children; Cory, Eileen, and Nicole. Diann stayed home with her children until they were all in school. She then went to work at Golden Plump for 30 years, retiring in 2005. Diann was a talented quilter and enjoyed doing puzzles, attending auctions, and going to garage sales, as well as hunting, camping and fishing. She would spend a lot of time in the kitchen making pies and other desserts. Diann especially enjoyed spending time with her grandchildren and family. She was a beautiful, stubborn and wise woman who was dearly loved and will be greatly missed.
Diann is survived by her husband, Alto; children, Cory (Rochelle) Finken of Hutchinson, MN, Eileen (Eric) Daniels of Avon, MN, and Nicole Gill of St. Augusta, MN; grandchildren, Tanner, Alexis, Remington, Mariah, Brooke, Kylee, Jaden, Riley, Trinity, Jayden, and Kassidy; brothers, Richard Chromey of Browerville, MN, Dean (Helen) Chromey of Browerville, John (Jeanne) Chromey of Fall Creek, WI, and Mark (Kris) Chromey of Alexandria, MN; sisters, Sharon Chromey of Brooklyn Park, MN, Beverly Messinger of Little Falls, and Kay Chromey of Denver, CO; many nieces and nephews.
Diann was preceded in death by her parents; brother, Jerry Chromey; sisters, Holly Chromey, Janet Mallak, and Colleen Henrich; niece, Katie Zapzalka; and nephew, Jerrod Zapzalka.