Thomas L. Unterberger, 64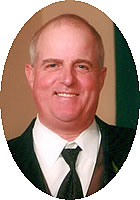 Watkins
September 14, 1954 - July 26, 2019
Thomas L. Unterberger, 64 of Watkins, passed away unexpectedly from natural causes at his home on Friday, July 26, 2019. A Memorial Mass of Christian Burial will be held at 10:30 a.m. on Wednesday, July 31, 2019 at St. Anthony Catholic Church in Watkins. A gathering of family and friends will take place from 4:00 to 8:00 p.m. on Tuesday and from 9:30 to 10:30 a.m. on Wednesday at the St. Anthony Parish Center in Watkins. Arrangements are with the Ertl Funeral Home, Watkins.
Thomas L. Unterberger was born on September 14, 1954 at St. Cloud, Minnesota. He was the son of Eugene and Olga (Gohman) Unterberger. Tom graduated from Eden Valley – Watkins High School in 1972.
On June 25, 1977, Tom was united in marriage to Doreen Faber at St. Nicholas Catholic Church in St. Nicholas. They resided in Watkins where Tom was employed as a carpenter for Nistler Building and Supply for many years. He also worked for Hinz Construction and Melvin Mathies Construction. Most recently, Tom was employed with Kimball Rail Car and R.M. Johnson Co. prior to his retirement. He also owned and operated Sud's Bar in Watkins for about ten years.

Tom retired from the Watkins Fire Department after serving 25 years. He was also a member of the Watkins Chamber of Commerce for ten years, serving five years as treasurer. His hobbies included fishing, hunting, walking and playing cards. He especially enjoyed spending time with his children and grandchildren and his dog Toto. Tom loved to tell jokes and stories, spend time at the hunting cabin, bonfires and rides on the Razor.
Tom is survived by his wife, Doreen Unterberger of Watkins; children and their spouses, Jason and Melody Unterberger of Watkins, Chad and Jen Unterberger of Watkins, Tracy and Brandon Espelund of Watkins, Mandy Neu of Duluth and Angie Neu of Watkins, grandchildren, John Unterberger, Kaylie Stenberg, Faith Unterberger, Ayla Unterberger, Jordan Espelund, Tori Unterberger, Rugar Unterberger, Mason Unterberger, Avery Glynn, Jared Unterberger and Blake Unterberger; sisters, Judy (Terry) Holstein of Lakeville and Joanne (John) Stewart of Marshall, Mo.; sisters-in-law, Sue Unterberger of Watkins, Shirl McCann of Arvada, Co
He was preceded in death by his parents; brothers, Jerry Unterberger, Jack Unterberger and Allan "Frizz" Unterberger; and brother in law, C.J. Schreifels.