Gertrude Thomes, age 93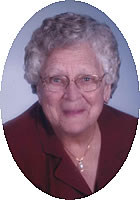 Roscoe
December 13, 1924 – March 30, 2018
Mass of Christian Burial will be 11:00 a.m., Thursday, April 5, 2018 at St. Agnes Catholic Church in Roscoe, MN for Gertrude Thomes, age 93, who died Friday March 30th at Assumption Home in Cold Spring, surrounded by family. Burial will be in the parish cemetery.
Relatives and friends may call from 4:00 p.m. – 8:00 p.m., Wednesday, April 4, 2018 at the Wenner Funeral Home in Richmond. Catholic United and Christian Women will pray a rosary at 3:45 p.m. Visitation will continue from 1 hour prior to services Thursday morning at the church.
Gertrude was born in Roscoe, MN to Ferdinand and Theresia (Kunstleben) Mackedanz. She married Joseph Thomes on June 10, 1947 at St. Agnes Catholic Church in Roscoe, MN. Gertrude was a homemaker. She loved fishing, jokes, quilting, playing cards, and especially spending time with family.

Survivors include her children; Judy (Ken) Erkens, Kenny (Diane) Thomes, Jeanne (Gene) Harter, Alice (Wayne) Teicher, Annette (Mark Skare) Fahnhorst, Karen (Tim) Schleicher, Grace (Todd) Jelle, Joe (Deb) Thomes, Wally Thomes, Jim (Brenda) Thomes; sister-in-laws Mary Mackedanz, Rose Thomes; brother-in-law, Norb (Caroline) Thomes; 22 grandchildren, and 29 great-grandchildren.
She was preceded in death by her husband, Joseph Thomes; sons, John and Gerald Thomes; son-in-law, Rick Fahnhorst; grandsons, Dan Erkens, Eric Thomes, Mike Bloch; siblings, Ben, Theresa Huschle, Leo, Jack, Sylvester, Francis Brinker, Frank, Henry, and Ray.