Tony Thelen, age 47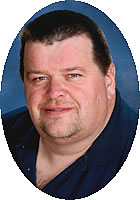 Farming
December 24, 1970 – February 3, 2018
Mass of Christian Burial will be 11:00 a.m. Thursday, February 8, 2018 at St. Martin Catholic Church in St. Martin, MN for Tony Thelen, age 47, who died Saturday at Rice Memorial hospital in Willmar. Burial will be in the parish cemetery.
Relatives and friends may call from 4:00 p.m. – 8:00 p.m., Wednesday, February 7, 2018 at the Wenner Funeral Home in Richmond. Visitation will continue from 9:00 – 10:00 a.m. Thursday morning at the funeral home.
Tony was born in Paynesville, MN to Ray and Bernie (Theis) Thelen. After high school Tony worked as a cabinet maker and started bartending. In 1995 he established GoatRopers Bar and Grill in Farming, which he owned and operated until 2013. Since then he spent his time woodworking, driving bus, and working on the family farm. He loved spending time with his nieces and nephews. Tony was instrumental in starting the annual Christmas Care Drive to benefit local families and enjoyed organizing groups for Christmas caroling at nursing homes on Christmas Eve. His passions included fishing, hunting, gardening, butchering, woodworking, antiques, and above all helping others anyway he could.
Survivors include his mother, Bernie; siblings, Tim, Kim (Kevin) Orbeck and their children, Katherine, Jack, and Samuel; Pete (Jill) and their children, Kylie, Ava, and Shelby; Jason and his children Nathan and Sarah.
He was preceded in death by his father, Ray; and his grandparents.