Alvin Spoden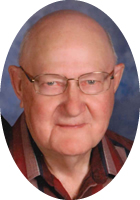 Cold Spring
May 29, 1930 - January 11, 2018
Alvin was born on May 29, 1930 in Luxemburg, MN to Henry and Barbara (Evans) Spoden. He married Esther Walz on February 11, 1950. They were blessed with 2 boys and 6 grandchildren. Alvin loved old-time music, his concertina, dancing and fishing.

Survivors include his wife of 67 years, Esther; sons, Duwaine (Mary) Spoden, and Gary (Brenda) Spoden; grandchildren, Lynn, Matthew, Cassandra, Carly, Courtney, and Chloe.
He was preceded in death by his siblings, Raymond, Andrew, Hank, Lawrence, Anna "Mootzy" Schroeder, Rose Czech, and Lucille "Toots" Evenson.
Services at a later date.
"I will miss my E&J"