Tracy A. Giller Schurman, age 45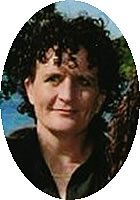 St. Joseph - formerly of Luck, WI
June 5, 1972 - March 14, 2018
Tracy Ann Giller Schurman of St. Joseph, MN, formerly of Luck, WI, passed away unexpectedly on March 14, 2018 at the age of 45.
Tracy was born on June 5, 1972 in Frederic, WI to Jack and Judy Giller. She was raised in Luck, WI and attended Luck Public Schools. She played on many sports teams, regardless of not being able to hear a sound. Her teammates used signals and other means to communicate with Tracy, and the opposing teams were amazed.
Tracy had years of schooling, and was recently an RN who worked at the St. Cloud VAMC as the Nurse Manager in the Acute Psychiatric Unit. Not only was she a loving mother of five children, but she was a creator. Words flowed through Tracy like ink through a pen, or water in a gentle stream. During her pastime, Tracy enjoyed blogging about her family, biking, and home improvement projects. She inhabited a wonderful sense of humor and was always ready to laugh.
Tracy is survived by her husband, Brian Schurman and their five children, Ariana, Elijah, Benjamin, William, and Zacariah. She is also survived by her mother, Judy Giller; brothers, Gary (Jen) and Hans (Rachel); niece, Reilly Giller; nephews, Dustin (Vanessa) Luke and children, and Evan Knutson; grandmother, Anna (Nana) Giller; aunts, uncles, cousins and friends.
Tracy was preceded in death by her father, Jack Giller; grandparents, Don Giller, Ervin and Mary Sederlund; and by her pug partner-in-crime, Leo.
Visitation will be held at Luck Lutheran Church in Luck, WI on Friday, March 16th from 4 to 7:00 p.m. A Memorial Service will be held at Luck Lutheran Church on Saturday, March 17th – visitation will begin at church at 10:00 a.m. followed by the service at 11:00 a.m.
An additional Memorial Service will be held at St. Boniface Church, 501 Main Street, Cold Spring, Minnesota on Saturday, March 24th at 11:00 a.m. Visitation will be held one hour prior to the service.
You are invited to leave condolences, memories and photos at www.rowefh.com . Arrangements are entrusted to Rowe Funeral Home in Luck.