Donald L. Pauly, age 78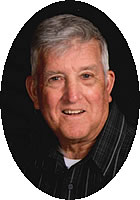 Cold Spring
April 24, 1939 – February 22, 2018
Mass of Christian Burial will be 1:30 p.m. on Monday, February 26, 2018 at St. Boniface Catholic Church in Cold Spring, MN for Donald L. Pauly age 78, who died Thursday, February 22, peacefully at his home surrounded by his loving family. Entombment will be in the parish cemetery.
A gathering of family and friends will be from 4:00 – 8:00 p.m. on Sunday, February 25, 2018 at the Wenner Funeral Home in Cold Spring. Parish prayers will be at 3:45 p.m. followed by the Rosary with the Knights of Columbus. Visitation will continue Monday afternoon from 12:00 – 1:15 p.m. in the St. Boniface Church Narthex.
Don was born in St. Nicholas, MN to Ray and Marie (Johannes) Pauly. He married Helen Bauer on September 17, 1960 in St. Benedict Church in rural Jordan, MN. They were blessed with "two and a half dozen" children. Don was involved with the family farm since he was 9 years old. He worked for 40 years for Electrolux. He enjoyed farming, fishing, and spending time with his family. Don was a 50-year member of AFL-CIO Local 623, Knights of Columbus and St. Boniface Parish. He will forever be remembered for his sense of humor.
He is survived by his wife, Helen; children, Mark (Stacy vonWald), Belinda (Mike) Van Beek, Tim (Susan Lenz), Tom (Denise Marrs), Randy (Jean Terhaar), Scott (Karin Beronius); son-in-law, Dan Bell; grandchildren, Amanda and Jackie Bell; Zac (Erin), Todd (Kaitlyn) and Dylan Pauly; Lauren and Stephanie Van Beek; Ethan and Colin Pauly; Kevin (Samantha) and Megan Pauly; Nicholas, Andrew, Jacob and Benjamin Pauly; Nick Plumhoff and Beau Pauly; siblings, Francis Pauly, JoAnn Jones, Harold, Marlene Kalla, Lloyd, Cletus, Doris Brinkman, Ralph, Carol Hondl, Sandra Scholz, Mary VanRoy and Joyce Rogers.
He was preceded in death by his children, Deb Bell and Bob Pauly; parents, Ray and Marie; siblings, Bernice Fuchs, Eugene and Gary.
Arrangements are with Wenner Funeral Home, Cold Spring.