Jeannie Marie Nelson, age 71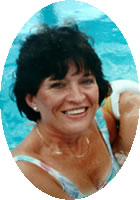 Cold Spring
January 22, 1947 – June 13, 2018
Mass of Christian Burial will be 11:00 a.m. on Monday, June 18, 2018 at St. Boniface Catholic Church in Cold Spring, MN for Jeannie Marie Nelson age 71, who died Wednesday evening at her home surrounded by her loving family. Burial will be in St. James Parish Cemetery in Jacobs Prairie at a later date.
A gathering of family and friends will be from 10:00 – 10:45 a.m. on Monday, June 18th, 2018 in the Church Narthex.
Jeannie was born in St. Cloud, MN to Elmer and Muriel (Murphy) Philippi. She was raised in Jacobs Prairie and graduated from St. Boniface High School. Jeannie began her working career as a teller at the First National Bank, where she met the love of her life. She married Dr. Gerald Nelson on September 9, 1967 in St. James Catholic Church in Jacobs Prairie, and they were blessed with 3 children. After her marriage, she joined her husband working as a bookkeeper at the various pet clinics he started. Jeannie's faith was very important to her as was her charity to others. She always took great care of her family and was by her mother's side in the final stages of her life. Jeannie enjoyed cooking, baking, reading, quilting, socializing and following her kids and grandkids in Rocori Sports. Most of all, she loved being a mom and grandma. She was always the go-to for her family to fix most of their problems and will forever be missed.
She is survived by her husband, Gerald "Gerry"; children, Erik (Marina) Nelson, Jeffrey (Amy Sue) Nelson, Amy Beth (Joshua) Loesch; siblings, Pattie (Steve) Liestman-Schmid, Susan (Scott) Cheeley; Mark (Betty) Philippi; in-law, Warren (Pat) Nelson; 8 grandchildren, Kaitlyn, Benjamin, Alexandra and Will Nelson, Oliva, Adeline and Beck Loesch, Nikolai Nelson.
She was preceded in death by her parents; siblings, Roger, Andy Jo, in-laws, Marjorie Ackerson, Vernal, Dorothy Arthur, Morris, Marian Reed, Marvel Lange, and Ronald Nelson.
Arrangements are with Wenner Funeral Home, Cold Spring.