Cheryl Kammermeier, age 71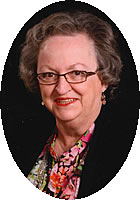 Richmond
October 20, 1946 – February 15, 2018
Mass of Christian Burial will be 11:00 a.m., Saturday, February 24, 2018 at Saints Peter & Paul Catholic Church in Richmond, MN for Cheryl Kammermeier, age 71 who died comfortably at home surrounded by her family.
Relatives and friends may call 4-8 p.m., Friday February 23, 2018 at the Wenner Funeral Home in Richmond. Visitation will continue Saturday morning from 9:00 - 10:30 a.m. at the funeral home.
Cheryl was born in Richmond, MN to Albert and Darlene (Ganzer) Feldhege. She married Dave Kammermeier on August 22, 1970 in Sts. Peter and Paul Catholic Church in Richmond, MN. She worked as a bus driver, secretary, and nurse. Cheryl loved crafting and spending time with her family.
Survivors include her husband, Dave; children, Lisa (Brad) Gray, Chris (Teresa) Kammermeier, Brian (Danielle) Kammermeier; siblings, Dave Feldhege, Beth (Alvin) Decker, Tom (Linda) Feldhege, Lori (Denny) Mueller; and 6 grandchildren.
She was preceded in death by her parents, and siblings, Carla Feldhege and John Feldhege.