Thomas G. Edelbrock, age 90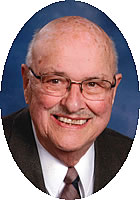 Richmond
February 8, 1928 – April 16, 2018
Mass of Christian Burial will be 11:00 a.m. Saturday, April 21, 2018 at Sts. Peter & Paul Catholic Church in Richmond, MN for Thomas G. Edelbrock, age 90, who died Monday at Assumption Home.
A visitation will be 2 hours prior to the service in the church gathering space. Arrangements are with Wenner Funeral Home, Richmond.
Tom was born in St. Cloud, MN to Felix and Edwina (Borgerding) Edelbrock. He married Lucille Engel on July 4, 1954 in California. Tom served in the U.S. Army from 1950 – 1952. He worked as an auditor for Goodyear. After retirement he moved to Richmond. Tom was a member of Sts. Peter & Paul Parish, Knights of Columbus and Catholic United Financial.
Survivors include his son, Bill of Mesa, AZ; grandsons, Thomas and Robert; granddaughter, Becky Finley; niece Beth; brothers, Paul and Edward.
He was preceded in death by his parents; wife, Lucille; son, Eric; brother, Wally and sister, Phyllis Prem.