Walter Joseph Donnay, 79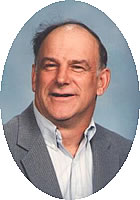 Watkins
March 12, 1939 - July 18, 2018
Walter Joseph Donnay, 79 of Watkins, passed away on Wednesday, July 18, 2018 at his home surrounded by his family. A Mass of Christian Burial will be held on Monday, July 23, 2018 at 10:30 A.M. at the St. Anthony Catholic Church in Watkins. Fr. Bob Harren will officiate. Visitation will be from 4:00 to 8:00 P.M. on Sunday and from 9:30 to 10:30 A.M. on Monday at the St. Anthony Parish Center in Watkins. Interment will be in the St. Anthony Catholic Cemetery. Arrangements are with the Ertl Funeral Home, Watkins.
Walter Joseph Donnay was born on March 12, 1939 in rural Watkins, the son of Henry and Susie (Mies) Donnay. He graduated from the Kimball High School in 1957 and was employed at Armours Meat Packing in So. St. Paul. He also served in the Army Reserves. On September 5, 1964, Walter was united in marriage to Betty Bauer at St. Benedict Catholic Church in rural New Prague. They farmed at Watkins until the present time.
Walter was a life long member of St. Anthony Catholic Church and was a member of the Catholic Order of Foresters and the Knights of Columbus. He was also a member of the Watkins American Legion Post 453. His hobbies included playing cards and he enjoyed socializing with family and friends. He always had a quick joke to tell.
Walter is survived by his wife, Betty Donnay of Watkins; children and their spouses, Walter B. and Anna Donnay of Andover, Patty and Tom Bury of St. Michael; 9 grandchildren and 4 great grandchildren; sister, Dorothy Anderson of Tucson, AZ.
He was preceded in death by his parents; sisters, Louise VanNurden, Lorraine Konz, Margie Hesse, Mildred Konz, and Mary Ann Nething; brother, Norbert Donnay.