Eugene "Gene" J. Braegelmann, age 84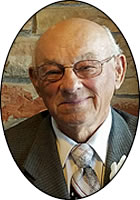 Cold Spring
July 20, 1933 – February 17, 2018
Mass of Christian Burial will be 10:30 a.m., Monday, February 26, 2018 at Sts. Peter & Paul in Richmond, MN for Eugene "Gene" J. Braegelmann, age 84, who died peacefully in his home surrounded by his loving family. Burial will be in the parish cemetery.
Relatives and friends may call from 4:00 – 8:00 p.m. Sunday, February 25, 2018 at the Wenner Funeral Home in Richmond. Visitation will continue from 9:00 – 10:00 a.m. Monday morning at the funeral home.
Gene was born on July 20, 1933 in Richmond, MN to John and Eleanor (Ludivig) Braegelmann. He married Bertha (Goebel) on September 15, 1956 in Sacred Heart Church, Freeport, MN. Gene served in the U.S. Army 1956-1958. He then returned to the family farm between Richmond and Cold Spring to farm for 46 years. Gene was a man of many hats and had an adventurous spirit. He played baseball for the Richmond Royals. He bowled locally for 50 years, attending the National Bowling Tournament for 24 years. Gene served on the Board of the Directors at the State Bank of Richmond. He started the 10-40 Snowmobile Race Course on his property and opened it to the public. He enjoyed gardening, fishing, hunting, traveling, dancing, and playing cards. Gene was a member of the Catholic Order of Foresters and Knights of Columbus.
Survivors include his wife, Bertha; children, Nancy (Scott Lull), Mark (Alice), Diane, Marie (Phil) Eichers, Scott (Jan), Dean (Sherry), Lynn (Jim) Erkens, Gary, Donna (Emmanuel) Amenuvor, Sara, Jason (Vicki), Brian (Lanae); 26 grandchildren and 9 great-grandchildren; siblings, Alfred (Fritz), Theresa Friedrich, Julitta (Letty) Bromenshenkel, and Gerhard (Hardy).
He was preceded in death by his son, Dale and granddaughter, Gretta; siblings, Harold, Rosetta Leyendecker, Wilfred, Alvin, Alverna Rausch, Edwald, Bernadine Wolbeck, Ione Breth, Ralph, Cecelia (Mutzy), and John Jr.
Gene's family would like to especially thank the St. Joseph CentraCare Center, St. Croix Hospice, Coborns Cancer Center for their dedicated care of Eugene.
In lieu of flowers memorials are preferred. The family will be making a donation in Gene's name.
Arrangements are with the Wenner Funeral Home, Richmond, MN