Agnes "Aggie" E. Vick, age 88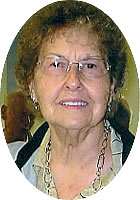 Delano
April 20, 1928 - March 23, 2017

Agnes "Aggie" E. Vick passed away peacefully on Thursday, March 23, 2017 at the Park View Care Center in Buffalo with her family by her side. She was born on April 20, 1928 in Richmond, Minnesota to John and Barbara (Huschle) Meyer.
Aggie was the youngest of 13 children. She married DeWayne "Chubby" Vick in Minneapolis in 1949. They settled in the Delano area in 1966.
Aggie was a loving mom, grandma and great grandma. She was also a good friend and neighbor. Aggie enjoyed cooking, gardening, quilting, crocheting, reading the Bible, and politics. She also was a collector and a great host for the Delano 4th of July celebration. But the thing she enjoyed the most was spending time with her family.
Aggie was preceded in death by her husband of 60 years, DeWayne "Chubby"; daughters Gayle Vick and Lonna Marjama; an infant child; parents; sisters Susan Langer, Mary Paul, Rose Schaefer, Veronica Erdman, Loretta Mykkanen; brothers Edward, Al, Leo, Paul, Sylvester, Louis and John Meyer.
Aggie is survived by children David (Cindy), Carol Jean, Doug (fiancée Karen), Dan (Karn), Darin (Chauntel); 15 grandchildren Troy (Melissa), Tracy (Tim), Chad (Jennie), Jodi (Brian), Anthony, Todd, Nickolas, Dane, Michael, Danny, Abie, Paige (fiancé Charlie), Taylor, Madison, Morgan; 9 great grandchildren Matthew, Macie, Hailey, Natalie, Luke, Nels, Ari, Bryn, Blythe; as well as many nieces, nephews, other relatives and friends.
Mass of Christian Burial will be held at 3 p.m. on Wednesday, March 29, 2017 at St. Joseph Catholic Church, 401 N. River St., Delano. Visitation will be 2-3 p.m. with a 1:30 p.m. Rosary service on Wednesday prior to the Mass at the church.
Arrangements by the Iten Funeral Home in Delano, Minnesota.