Wayne Robert Classen, age 68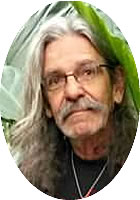 Cold Spring
February 28, 1948 – March 13, 2017
Wayne Robert Classed, Age 68 died Monday at the St. Cloud Hospital. A funeral service will be held at a later date.
Wayne was born in St. Paul, MN to Robert and Imogene (Siercks) Classen. He married Diane Barber on June 21, 1986 in Pioneer Park, Stillwater, MN. Wayne served in the U.S. Navy from January 1968 – January 1974.
Survivors include his wife, Diane Classes; parents, Robert and Imogene; daughter, Sabrina Pace; step-daughter, Jessica Joos; siblings, Gregory (Susan) Classen, Deborah (Ira) Loveday, Cynthia Classen, James (Michelle) Classen, Timothy (Janet) Classen; in-laws, Roxanne (Donald) Hintz, Christine Ogren, Timothy Barber, Thomas (Teri) Barber and 7 grandchildren.
He was preceded in death by his brother, Brian Classen; in-laws, Harvey (Dorothy) Barber, Richard Barber and Terry Barber.